We accept cash, check, VISA, MasterCard and Discover.
Gift Certificates are available. >Buy Gift Certificate Now!
For more information or to schedule an appointment, please call:
(989) 329-7949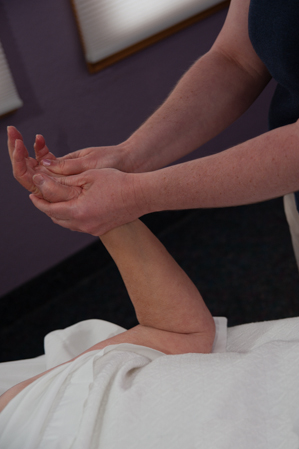 Therapeutic Massage
A variety of massage techniques are applied to address your specific health concerns, while promoting an overall feeling of relaxation and well-being. Your session may include one or more of the following modalities: Swedish massage, myofascial release, trigger point therapy, deep tissue, and CranioSacral therapy. This encompasses sports massage, relaxation massage, pregnancy massage, youth and geriatric.
Half Hour $40 One Hour $70 Hour and Half $100
---
Abdominal Massage
Specific technique are applied to the abdomen and lower back to aid in improving digestive health and/or reproductive health. Additional modalities are applied and suggested for on-going care at home. Abdominal massage also is very effective in reducing scar tissue and adhesions in the abdominal cavity.
Half Hour $40 One Hour $70 Hour and Half $100
---
CranioSacral Therapy
A subtle technique designed to achieve structural and systemic balance by addressing points of tension along the spinal column.
Half Hour $40 One Hour $70 Hour and Half $100
---
Chair Massage
Neck and shoulder massage provided while seated in a specially designed massage chair.
$1 per minute of massage
---
Add- Ons and Up grades Services
Upon request, you may add any of the following to your massage session
Scalp/Facial Massage

Sinus Massage

TMJ Massage

Reflexology

Aromatherapy

Paraffin Wax

Vacuum Cupping

Ask your massage therapist for details.
---
Other Services
Please ask us about our additional services:
On-site chair massage

Promotional massage for special events

Community education presentations

Professional referrals to trusted colleagues for services including naturopathic medicine, wellness and life coaching, and acupuncture.
---
Buy Gift Certificate Now!">Buy Gift Certificate Now!
| Service/Product | Rate | |
| --- | --- | --- |
| 60 min. Reiki and massage combo | $100 | / 60 minutes |
| Belavi Facial Massage | $45 | / each |
| Chair Massage | $1 | / 1 minute |
| Hot Stone Therapy | $75 | / 30 minutes |
| Hot Stone Therapy | $85 | / 60 minutes |
| Hot Stone Therapy | $115 | / 90 minutes |
| Reiki | $60 | / 60 minutes |
| Reiki | $90 | / 60 minutes |
| Swedish Massage | $40 | / 30 minutes |
| Swedish Massage | $70 | / 60 minutes |
| Swedish Massage | $100 | / 90 minutes |